10 Ways of Organizing Kitchen with Modular Accessories & Fittings
Organizing—may sound a cumbersome word for some lazy bones-including me. But when it comes to organizing a kitchen, I want it done once and forever. Moreover, Indian kitchens have come a long way from open firewood stove days to a modular facelift. Also, modular kitchen fittings are a solution to so many nagging issues faced in the kitchen. Not only this contemporary kitchen solution gives it a chic look but also harmonizes, neatens and helps in maximum utilization of space. Now, whether you choose to engage a professional kitchen design studio like
A+ Construction & Remodeling
or do it on your own, here are 10 easy ways of organizing kitchen with modular accessories & fittings.
Two rules I follow while organizing my kitchen is:
1. Keep stuff reachable and simple.
2. Keep the counter tops or slabs neat and open.
Before we embark on the organizing journey make a mental picture, and divide your kitchen in sections. Subsequently, you shall arrive at a similar list- electronic gadgets, serving dishes, crockery, cooking utensils, grains and pulses, stove area, oils, spices, condiments etc. Let's look at how these sections can be organized using the modular fitting & accessories options available in the market. Moreover, this article shall give you an idea to organize an Indian kitchen too.
1. How to organize utensils in modular kitchen:
Around the gas stove/ induction cook tops.
This is the spot where the curtain raises, so all other organizing is done relatively. Hence, keep all the basic utensils and cookware, which is used on daily basis closer to the hob. In addition, pressure cookers, stew pots and pans, mixing bowls etc. all these should be ideally placed together in one shelf. Ideal shelve type for keeping utensils are revolving racks or rectangle deep drawers or sliding shelves.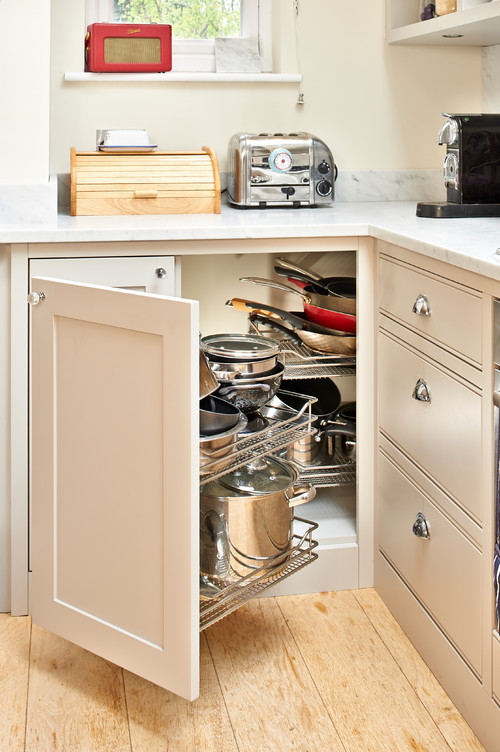 2. Store the kitchenware in order of its usage:
On the lower reachable shelves put the things that you use almost every day and as you go up on cabinets over your height, stack the infrequently used items/kitchenware.
3. Drawers with wire /steel baskets:
Put all plastic containers with lids/ microwave safe utensils/baking dishes or moulds/cookie cutters/chocolate moulds etc. together in one drawer cabinet with wire baskets. Further, even the insides of cabinet doors can be fixed with organizer racks to stack lids/tops. They are good space utilization move.
4. Cutlery drawers:
With demarcation are good for managing spoons and forks etc. these drawers have organizers which help to keep the cutlery of different shapes and sizes neatly arranged, so you don't have to delve into shelves or spoon holders looking for the one you need. As a matter of fact, big cooking ladles and spoons can be kept near the stove for easy access.
5. Open racks and cabinet shelves:
Are ideal to create a corner or space for arranging all the kitchen gadgets together, such as hand-blender, food processor, toaster or sandwich maker etc. Also, invest in appliances that fit well in the space you have. If possible buy similar colours in appliances, this will create an artsy corner of its own in the kitchen—similar colours stacked together.
6. Shelves for Pantry:
Allocate some shelves as pantry, if you don't have a separate area/ room. Pull outs/sliding drawers with steel fittings serve well to stow grains, pulses or your monthly stock. Moreover, investing in a good shelving system is great idea, and there are custom made well ventilated options available in the market to take a look at.
Decide judiciously and identify a spot which is away from water source, in order to avoid moisture dampening your stores. However, to arrange, categorize the items to be stashed here and store them in groups, like all cereals together, condiments/ready to cook meal packs/cookies and biscuits/oil. Grouping items gives a neater look and help in stock taking too.
7. Open cabinets/glass door cabinets:
It's an ideal spot to flaunt your best or antique /inherited china, hand painted crockery, cookie jars and pasta canisters! Furthermore, neatly stacked baskets is another novel idea for open cabinets, they give a clutter-free immaculate look to the kitchen. Get some sleek lights installed and see the effect the light plays. One can even adorn thick cotton floral curtains for that retro look to open cabinets.
8. Space utilization:
Max the space you have by installing pull out trollies and storage units. These can be custom made to use small space between cabinets (as small as 5-6 inches). They make perfect storage for oil bottles and leaner jars.
9. Lazy Susan/ rotating trays:
These are kitchen fittings that we strongly recommend. Place them in cabinets to bring forth the items stored at back by just a simple spin, or place it in a corner on the slab stacked with ketchups, sauces or jams for easy access.
10. If you live in coastal areas:
Or your house often faces seepage issues during rainy season, it's advisable to line the back of walls in the cabinets with tiles and use stainless steel fittings. In case you are a wood lover—opt only for water proof, termite proof wood and laminates.
If you looking to design your modular kitchen, reach out to us on # 9867207055 to connect to an expert. From Single wall modular option to parallel walls, L-shaped, island shaped, U shaped kitchens, you name it, they have a plan for you. A basic modular kitchen will cost from INR 30,000 & go up till INR 5,00,000.
So that were some simple and easy ways to keep your nerves under control with a better organized kitchen. If have some of your own genius kitchen organizing ideas, we are eager to hear. Do share them, till then, get organized :)